CAROLE'S CORNER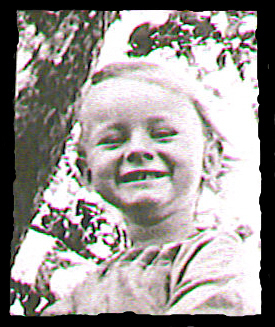 One-armed Bob Cochrane when he still had two arms. Unfortunately, he was still as deaf as a post, which condition led to the accident that cost him his arm. The photo was taken sometime around 1890.
MY TWO UNCLE BOBS
DEAF UNCLE BOB ON THE HERRON-COCHRANE FARM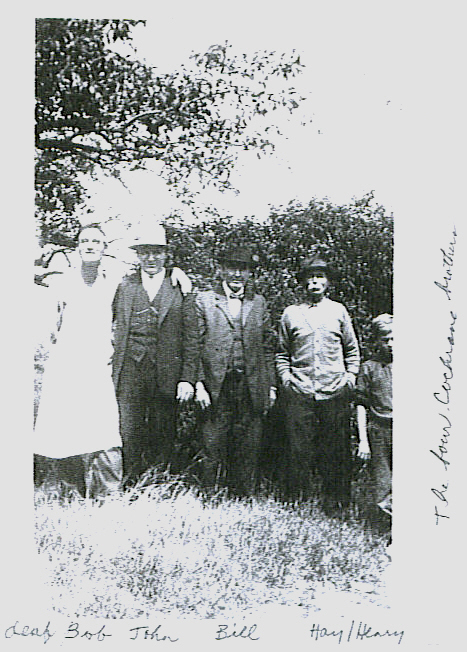 A GIANT of a man he was… of course I was a wee snippet at the time… but he was tall – Tall – TALL! And when he picked you up, with the only arm he had, and set you on his shoulders – you were UP HIGH!

Deaf since childhood, when he spoke, the sounds were strange but joyous. We kids knew that he loved us and we LOVED him. We sensed and trusted this man as "not-one-of-THOSE-ADULTS!" He was, in a grown up way – "one of US." He used magic sign language with his hand and fingers and my mom and older sister could understand that language and sign back.

He was my grandpa's youngest brother and worked under his direction. Uncle Bob seemed to manage any job with the aid of belts and straps – he did fine with one arm… lesser men needed two. The word was that as a young boy he was delivering lunch to his brothers in the mill. The machinery was turned off during the lunch hour and when it was turned on again our Uncle Bob was too close, and his deaf ears couldn't hear the whirring of the machinery and it caught and mangled his arm. They had to remove what was left and that must have really hurt. Our uncle Bob was our HERO!

(L. to R.) Bob, John, Bill, and Hay

The Cochrane Boys the Gaspe Penninsula taken when there wasn't much boy left in the lot of them, probably in the late '30s.

The last time we saw him was when we were teenagers and Mom stopped at a large brick building in Alpena where he lived and worked on the grounds. We had a chain-link fence between us but that didn't stop the sign language or the love from flowing between us.




UNCLE BOB THE BARBER

Uncle Bob the Barber was probably named after his dear, one-armed Uncle Bob. That means that Deaf Bob was really our

Uncle Bob the Barber was tall, handsome as all-get-out, and in my clan was known for his thick head of hair. He was a Cochrane, BUT HALF HERRON and lucky enough to inherit the Herron Hair. Herron hair was thick… no bald men amongst the Herrons. That goes for women too – my sister Patti was told, and has told others for years, that she has Herron hair.

Besides the hair thing we heard from our mother that he cooked for large groups of people and had a voice so grand that he belonged to the Alpena Michigan Besser Company Male Chorus. He was so good that they made an exception to their sacred rule that you had to work there to sing there.

So my uncle, the Barber, was one fine fellow and my story could end there, but it doesn't. Picture this: You're riding with a bunch of Americans and Europeans standing in the back of a dilapidated pick-up in the boonies of Costa Rica headed for a coastal paradise of ocean – with hidden scenic waterfalls to swim around and under. You are taken to a 'hotel' built with a lot of bamboo with basic rooms – a bed and shared bathroom.

The eating and drinking place is an open bamboo porch with several crowded tables and chairs and the food is exotic and delicious. The place is filled with people but the table next to you catches your attention because of the people and their conversation. There a beautiful young Costa Rican mother with two handsome adolescent sons AND an elderly handsome English-speaking gentleman – the husband and father. He brags about having a young wife and siring, at his age, those young handsome sons. He is what is known by the locals as a pensionado – old American men with pensions that take up with younger women. Both parties look for, and benefit from, the relationship.

You enter into his conversation and eventually ask, "Where are you from?"

"Oh, from the US of A – a town no one has ever heard of!"

"So, where is that?"

"Ah, you don't know where it is and you've never heard of it… Alpena, Michigan!"

"WHAT! ALPENA, MICHIGAN – THAT'S MY ANCESTRAL STOMPING GROUND! My ancestors were and are the Herrons and the Cochranes!"

"THE COCHRANES… MY BARBER WAS A COCHRANE!"

And so it goes… talk we did! Bob Cochrane and the barber shop and what a fine fellow and when you go back there tell them that I'm down here… in the boonies of Costa Rica. Small world isn't it… certainly is… yes indeed.

And NO… I don't remember that old guy's name! And YES… Bob Cochrane's well-deserved fame as a good barber and a fine man has reached many miles to Costa Rica… and who knows where else!