<![if !supportEmptyParas]> <![endif]>
<![if !supportEmptyParas]> <![endif]>
The Alpena News, May 1967
<![if !supportEmptyParas]> <![endif]>
Flint Woman Dies, One Critically Hurt in U.S. 23 Crash
<![if !supportEmptyParas]> <![endif]>
A Flint woman was killed and another critically injured in the early hours of the Memorial Day weekend when their automobile and a pickup truck collided on Thompson Road at US 23 in Fenton Township. Dead is Lydia C. Herron, 22, of 2406 Humboldt Ave., the driver of the car. Her companion, Kathleen M. Henning, 21, of 4201 Clio Rd., is in critical condition at McLaren General Hospital. State Police said Miss Herron was turning left from a US 23 exit ramp onto Thompson about 1:50 a.m. today when the car was struck by the truck, driven by Edward H. White III, 11105 S. Jennings Rd., Fenton Township. White was not hurt. Before sunrise Saturday, seven others had died in Michigan traffic. The Associated Press tabulation of holiday traffic deaths began at 6 p.m. Friday and ends at midnight Tuesday. [The article continues with a discussion of other accidents inMichigan.]
<![if !supportEmptyParas]> <![endif]>
<![if !supportEmptyParas]> <![endif]>
The Alpena News, May 1967
<![if !supportEmptyParas]> <![endif]>
Alpena Rites set for Victim of Collision
<![if !supportEmptyParas]> <![endif]>
Services for Miss Lydia C. Herron, 22, an X-ray technician who was killed early Saturday in a car-truck collision, will be at 2 p.m. Tuesday in the Bannan Funeral Home in Alpena. Burial will be in Alpena. Miss Herron, 2406 Humboldt Ave., was driving a cart that turned left from a US 23 exit ramp onto Thompson Rd. and was struck by a truck driven by Edward H. White III, 11105 S. Jennings Rd., Fenton Township. He was not injured. Riding with Miss Herron was Kathleen M. Henning, 21, of 4201 Clio Rd., who is in the intensive care unit of McLaren General Hospital. She remained in critical condition Saturday night. Miss Herron was a 1965 graduate of the Hurley Hospital School of X-ray Technology. She was a member of the American Society of Radiologic Technologists and St. Matthew Catholic Church. She was employed by Drs. Ralph E. Dawson, J. Murray Day, and Mark C. Levine of Flint, and the Werby Electroencephalographic Laboratory, Flint. Surviving are her parents, Mr. And Mrs. Orville Herron, two brothers and three sisters, all of Lachine.
<![if !supportEmptyParas]> <![endif]>
<![if !supportEmptyParas]> <![endif]>
The Alpena News, May 27, 1967
<![if !supportEmptyParas]> <![endif]>
Crash in Flint Area Kills Former Spratt Resident
<![if !supportEmptyParas]> <![endif]>
Flint Ė Miss Lydia Herron, 22, daughter of Mr. & Mrs. Orville Herron of Spratt, was fatally injured in a car-truck crash 12 miles south of here at 1:05 a.m. Saturday. She was dead on arrival at Flintís Hurley Hospital. A companion riding in the car with Miss Herron, Kathleen Henning, 21, of 4201 Clio-rd, Flint, is reported in serious condition in Flintís McLaren Hospital.
<![if !supportEmptyParas]> <![endif]>
The accident occurred on US-23 at Thompson-rd when the Herron car exited from the southbound expressway onto Thompson-rd and was struck broadside by a westbound pickup truck driven by Edward White of Flint. He suffered minor injuries in the crash. White was not held but the accident is still under investigation, according to Flint State Police.
<![if !supportEmptyParas]> <![endif]>
Miss Herron, who resided at 2406 Humboldt in Flint, was born Jan. 24, 1945 in Alpena. She graduated from Alpena High school in 1963 and from Hurley Hospital School of Radiology in 1965. She had been employed at the Dawson Neurological Clinic, Flint.
<![if !supportEmptyParas]> <![endif]>
Surviving besides her parents are three sisters, Margie, Gayle, and Doris; and two brothers, Nason and Franklin, all at home; her paternal grandparents, Mr. & Mrs. Frank Herron of Spratt. Miss Herronís body is at the Bannan Funeral Home where the funeral services will be held Tuesday at 2 with the Rev. Howard Schaffer and the Rev. Father John McGowan officiating. Interment will be in Evergreen Cemetery.
<![if !supportEmptyParas]> <![endif]>
<![if !supportEmptyParas]> <![endif]>
Buried: May 1967, Evergreen Cemetery, Alpena, MI
<![if !supportEmptyParas]> <![endif]>
<![if !supportEmptyParas]> <![endif]>
<![if !vml]><![endif]>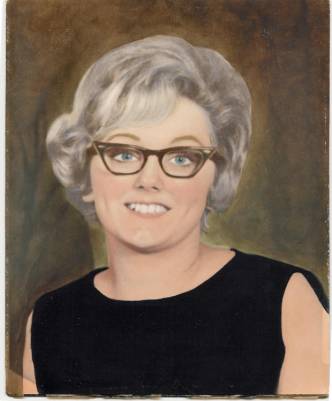 <![if !supportEmptyParas]> <![endif]>
A tinted high school graduation photo of Lydia
<![if !supportEmptyParas]> <![endif]>
********************************************************************
<![if !supportEmptyParas]> <![endif]>
[Quoted from The Herron Family of Alpena County, Ruth Ann Cochrane and Clyde A. Morrison, June 26, 1998, in the Alpena Public Library, R Gen. 929.1 Herr]
<![if !supportEmptyParas]> <![endif]>
********************************************************************
<![if !supportEmptyParas]> <![endif]>
<![if !supportEmptyParas]> <![endif]>