William Munns, 1850 Census
The following record is from the English census of 1850. The people described are about the right ages to be my grandmother's grandfather William Munns and his family. It is also of note that his brother is John Munns and grandma's father was William John Munns. On the other hand it seems that everybody since William the Conqueror and King John of the Magna Carta has been named William or John, so this may be of scant standing.
City and County Location: Chatteris, Cambridgeshire
Address: MILL END

| | | | | | | | |
| --- | --- | --- | --- | --- | --- | --- | --- |
| Name | Position in Family | Marital Status | Age | Sex | Occupation | Approx. Birth Year | Birth Place |
| Daniel Munns | Head | Married | 40 | M | Keeper of Beer Shop | 1811 | Colne, Huntingdon |
| Mary Munns | Wife | Married | 39 | F | | 1812 | Chatteris, Cambridgeshire |
| William Munns | Son | Unmarried | 19 | M | Agricultural Laborer | 1832 | Chatteris, Cambridgeshire |
| John Munns | Son | Unmarried | 17 | M | Agricultural Laborer | 1834 | Chatteris, Cambridgeshire |
| | | | | | | | |
The age of this William Munns is just about the same age as Grandma's grandfather (photo below). His father's name of Daniel is at odds with the other family tree that Ann Huston, my Uncle Bob's daughter, obtained from one of the cousins. However, the tree also lists William's birth year as 1833 but the date on the tombstone described below would place his birth year as 1832 (or possibly even 1831) as in the above record. Also, the locus of towns, including Peterborough described below, where William Munns is buried, about is six or seven miles in radius, and grandma's sister Kathleen was also buried just a couple of miles west of Peterborough. If I find the name I will add it. On the other hand, Ashton, listed in the family tree, is about 45 miles to the southwest. Therefore, I am inclined to think that the record above reflects the family history. My cousin John Richardson, Joan Munns' son, says that his family also thinks it is the correct record. We were all especially impressed by the father's choice of professions, which may have colored our judgment - pleasant amber tint - or some may say clouded it, but we're happy enough. In any event I hope to find out where the tree came from and the records that might be associated with it.
Nelson

We at this end think that this looks correct.
Keep up the good work.

How did the Irish trip go?

We expect to see Ann next week

Regards

John

Nelson

I have just returned home from Bainton, where Grandma Jim's Grandad Munns is buried. We had a rather nice lunch at a Pub in Stamford whilst we were out, my Mum & Dad came with us.
Anyway, Elsie & Reg's grandad Munns name was William Munns, and he died on March 28th 1914 aged 82yrs. He is buried alongside his wife, Mary Ann Munns who died on Jan 2nd 1905 aged 78yrs, not bad ages for those days! I hope this helps you. Let me know if there is anything else I can do.

Regards


John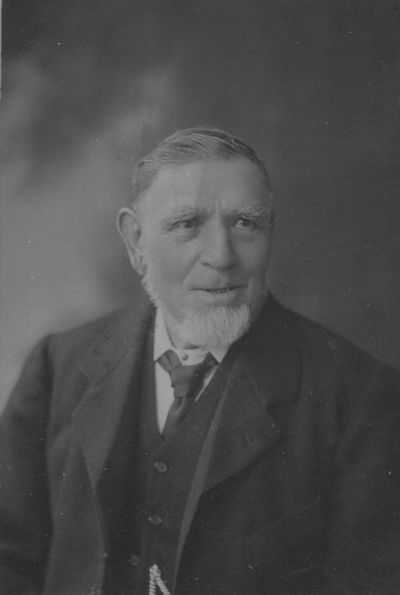 Great Great Grandad Munns
From the 1890s, I'd guess, this photo seems to have been one of grandma's treasures.