WHO WERE GERALD L. HERRON AND MARY ELDARRATTA SUTHERBY DALY HERRON?
George Colburn Herron and Catherine Link Herron had 13 children, one of whom was Charles E. Herron, their fifth child, and third son. Charles married Ida E. Warren in 1901, and they spent most of their years in Wilson Township. They had 6 children, Gerald L., Doris Ellen, Marjorie L., Ralph F., Eunice R., and Helen F. Gerald L. Herron was born March 24, 1902, in Wilson Township.
Gerald spent many of his years there, but by the 1920 census, when he was about 18, he had left home. There seems to be no census data available for him after that time. It's not clear when or where he met Mary Sutherby, and her background was more difficult to trace than his!
Mary E. Daley was born March 4, 1896, in Hale, Michigan, to John and Eva Castler Daly, according to her marriage license from Hillman, Michigan. However, in the 1920 census, taken January 6, 1920, she is found in Mount Clemens, Macomb county, Michigan. She is lodging with the VanEpps family in their boarding house, aged 24, a teacher at a Business College. She was born in Michigan, her father was born in Canada (English) and her mother was born in Michigan.
However, in the 1910 census, when searching for Mary E. Daly, we found her living as a niece, with her uncle, Charles Sutherby. With them is also Charles' brother, George Sutherby. It's unclear as to what relationship Mary had with George, but it can be supposed that he would possibly be her father. The relationships shown are all to the head of the family, Charles. Also there is another niece, Fanny F. Sutherby, aged 9. Both men were widowed, and were brothers. Mary's link with the Sutherbys is confusing at best, and maybe even misleading.
Tracing her back to the 1900 census was difficult / impossible, until she was searched for under the last name of Sutherby. Under a Sutherby search, it appears that she was born with the name of Mary E. Sutherby, her father, George, was a farmer in Bay county, Michigan, and had emigrated to the United States in 1865. He and his wife, Eva, had had 5 children, but only Mary had survived. Evidently, the mother also died soon afterwards, because by the 1910 census, Mary was living with the two Sutherby men, Charles and George, and was then known as Mary Daley, niece, aged 14. She may well have lived with other relatives before this census, whose name was Daley, and may have adopted that name. Her background is very confusing.
In December of 1920, she is also found in the Alpena News in the Wilson Twp. School Notes, in December, as Mary Sutherby, a teacher in the Bunker School. On the same page of clippings, there is "M. Herron" at the Beyer School, which would have been Myra Herron, wife of Fred Herron. Myra would not die until 1925, and she was a teacher there at that time. Surprisingly, her son, Harlo E. Herron also visited that school and was mentioned in the clipping.
Mary Elderatta Daly and Gerald Lee Herron were married in Hillman, Michigan on March 24, 1928. According to the information they gave, Gerald was the son of Charles Herron and Ida Warren, and was living in Wilson Township, where he had been born, and was farming at the time. He said he had not been married before. Mary Elderatta Daly was 30 years old at the time, living in Long Rapids, Michigan, born in Hale, Michigan, and was a teacher. Her parents were John Daly and Eva Castler. She also had never been married before. The county clerk who signed the certificate was Wm. MacIver. Their wedding ceremony was performed by Rev. John W. Dingle, and witnessed by Lillie Eagle and Thelma Haverstick, both of Hillman, Michigan. (Ruth Ann Cochrane stated: I had called Beulah Lumsden Tucker and asked her who Mary Southerby was. She said Mary married Gerald Herron. She married him during the time she was teaching at the Brown School.)
During their married lives, Gerald and Mary had no known children. Also, during this time, evidently Gerald had been working at the Huron Portland Cement Company in Alpena. In the 1960 Alpena City Directory, Gerald and Mary are listed as living at 110 S. Eighth Street and Gerald was listed as a water tender at the Huron Portland Cement Company. A short 7 years later, they had retired and moved to California.
In the 1980's, Gerald wrote to Mary Herron (wife of Harlo Herron): "Dear Mary, Well here is another Christmas at hand and I hope you and yours are as well and happy as we are. Time goes by so fast, too fast when you are in the eighties. I do the cooking most of the time which may account for our weight loss. Neither of us have been to see a doctor since a year ago last April. About all the dope we take is a 'One a Day" vitamin and extra strength Tylenol for our old age aches and pains. We had a nice summer. Lots of rain and not too hot so everything kept nice and green and growing like mad including the weeds. We are sure out of touch with the goings and comings of Alpenaites. Pat had cancer and had to have chemotherapy so told her not to bother to send the Alpena News any more. It got so out of a bunch of 25 or 30 papers we would only know or recognize 2 or 3 names. Well, hope the geritol still is working and have happy holidays. Love G and M." They also evidently sent a picture of the two of them, which is in the picture page with this newsletter.
January 8, 1987, Gerald died in Calimesa, Riverside county, California. According to his wife, who wrote Mary Herron (wife of Harlo Herron) in Alpena: "Monday. Dear Mary, How surprised we were to get your letter. We had tried so hard. One report was you had sold your home, one that you were in a rest home, one you had moved away. Then we got a letter from your daughter. No name or address. So we quit writing. Hope all is well with you. Gerald had a bad year in and out of the hospital. He passed away the 8th of January. He suffered hard the last few days. Dr's said he was full of poison and could not live. He sure didn't get to enjoy our new home. We have a beautiful apartment in a convalescent hospital. You are taken care of the rest of your life. We have only been there two months. The second day we were there he fell and broke his hip. I dread to be alone in it. Please write to me. I'll be very lonely. Love, Mary"
The obituary that was run in the Alpena News in January, 1987 stated: "DIES IN CALIFORNIA. Gerald Herron, 84, of Redlands, Calif., died there Jan. 8. He had been ill for three months. Born in Alpena County March 24, 1902, Mr. Herron had resided in Alpena until his retirement from the Huron Portland Cement Co., in 1967, when he and his wife moved to California. Survivors include his wife, Mary, of Brookside Convalescent Hospital, 105 Terracina, Redlands, Calif. 92372. Also surviving are two sisters, Eunice Waisanen and Helen Dexter, both of Oscoda."
September 17, 1994, Mary E. Daley Herron died in San Bernardino, California. Her last address was listed as "Redlands, San Bernardino, California'. In her records, her date of birth was listed as March 4, 1896, in Michigan. Her Social Security number had been issued in Michigan. Unfortunately, no one knew to run an obituary in the Alpena News for her.
<![if !supportEmptyParas]> <![endif]>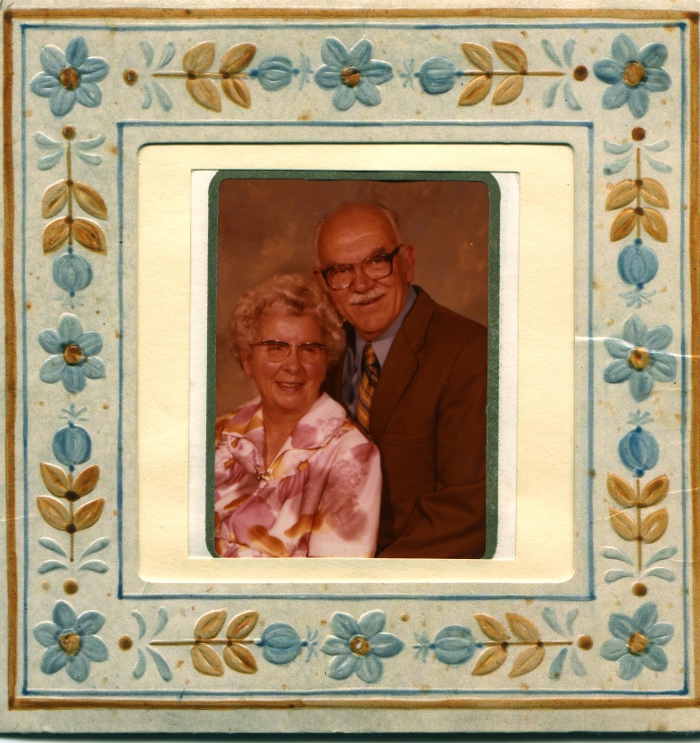 <![if !supportEmptyParas]> <![endif]>
A photo of Gerald Herron and Mary Eldarratta Daly Herron near the time Gerald died (early 1980s).
<![if !supportEmptyParas]> <![endif]>