HENRY LEE COCHRANE
By Ruth Ann Cochrane
Henry Lee Cochrane, better known as Lee, was born in Wilson Township, Alpena County, Michigan to Henry and Estella Jane Cochrane (Herron) on November 24, 1903. He was the second child in a family of six. His siblings were Lorraine (Lorene), Robert, Oran, an infant girl (unnamed), and Donald. Lee attended the King School in Wilson Township and helped his parents on the farm by King Settlement Road.
In November of 1923, Lee married Clara Mildred Lancaster, a local girl. Clara was born in Dawn, Ontario, Canada to Orval and Frances Lancaster (Burr) on February 18, 1906. When Clara was about twelve years old, her mother passed away.
Around 1926, Lee and Clara moved to Flint, Michigan where he was employed at the Buick Motor Car Company. Lee and Clara had two daughters, Frances Shirley and Audrie Ilean.
Frances Shirley, better known as Shirley, was born in Alpena, Michigan. She married Lynn Wallace August 24, 1946 at the Methodist Church in Wilson Township. Lynn was the son of Samuel and Carrie Wallace (Dent). They had four children, Sue Ann, Robert Lynn, Kendall Bruce and Jeffrey Jay.
Lynn worked as an assistant mill manager at Huron Portland Cement Company in Alpena. He was very active in the Alpena Babe Ruth League and received a special award for his work as an all-star coach. Shirley was an active member of the First United Methodist Church. She made cards for the shut-ins and was involved with dinners, scouts, and fellowship circles. She enjoyed helping others, cooking, making craft items, and being with her family and friends. Shirley passed away November 11, 2000 at the age of 75.
Audrie was born in Flint, Michigan. She married Vernell James Rensberry in 1945 at the Wilson Methodist Church. Vernell was the son of Voyle and Pearl Rensberry (Dent). They have four children, Judy Clara, Duane Vernell, David James, and Jill Marie.
Vernell worked at Abitibi Price and retired from there in 1988. Audrie worked for the Department of Military Affairs at the Combat Readiness Training Center in Alpena. She retired from there in 1995. Audrie also was the Wilson Township Clerk for twelve years. She followed in her grandfather's footsteps. Henry Cochrane had been the Wilson Township Clerk many years before. (And let's not forget, George Colburn Herron had served as one of the original township clerks!) Vernell's grandfather, Alex Rensberry, had also been Wilson Township Clerk. Today, Audrie and Vernell are enjoying retirement and will soon have been married sixty-one years.
Lee passed away May 2, 1931 at his home in Flint, Michigan. He died of pleuro-pneumonia. His funeral was held at the home of his parents, Mr. & Mrs. Henry Cochrane, and at the Methodist Episcopal Church in Wilson Township. Interment was in the Wilson Township Cemetery (King Settlement Cemetery).
After Lee's death, Clara and the girls moved back to Alpena County. On April 10, 1932, Clara married Merville Smith and had four more children, Merville Ronald, James Roger, Shelby Jean, and Terry Glen. They made their home on a farm by Herron Road. Merville worked at the Huron Portland Cement Company. He passed away March 15, 1977. On September 25, 1998, Clara passed away at Alpena General Hospital. Her funeral was held at the First United Methodist Church of which she was a member. She was buried in King Settlement Cemetery.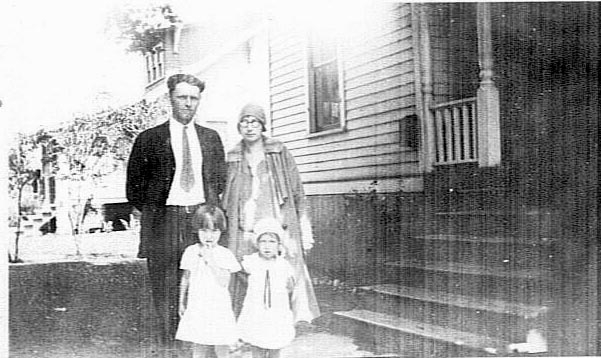 A photo of Lee Cochrane and Clara Lancaster Cochrane with Shirley and Audrie. This looks like it was taken at their home in Flint.