George S. Herron and his family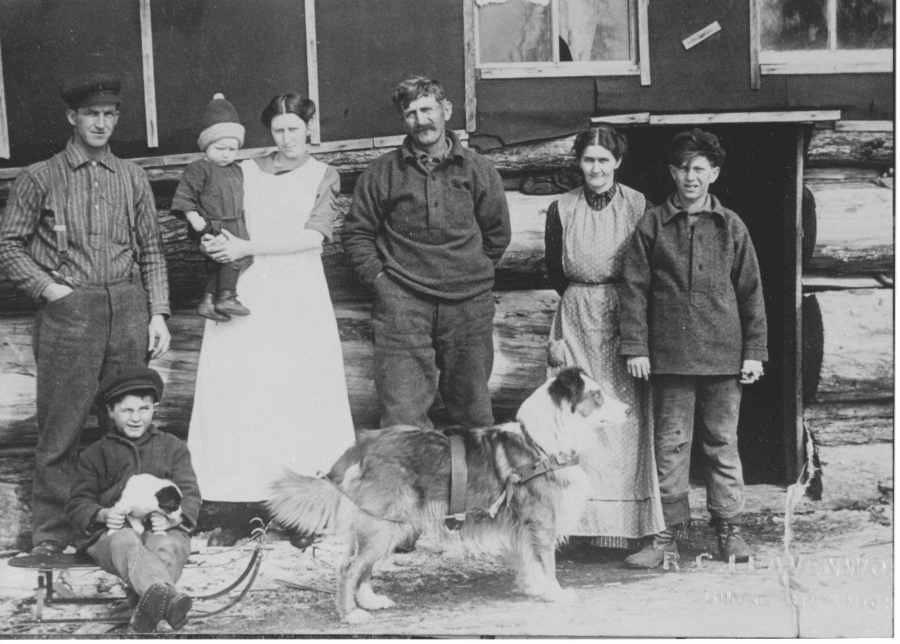 George S. and Barbara Herron's family. (left to right) Benjamin Harrison McLeod husband to Edna Herron McLeod, holding Thelma McLeod; George S. and Barbara; with Alger on the far right. Arnold is in front on the sled holding the puppy. I don't know the name of the dog pulling the sled. I think this photo must have been taken in the winter of 1916 - 17 because I believe Thelma was born in 1916, and the baby doesn't really look to be any more than a year old. I have second photo that must have been taken the same day. It is a low quality print on ordinary paper. I got it from my aunt, Kay LaComb. I will try to get a copy of the original scan from her. It has the same baby in it. Originally, she identified the baby as her brother, my uncle Nelson, who was born in 1912. Subsequently, a number of McLeod sources identified the baby in this photo as Harry and Edna's oldest child Thelma, and my aunts both agree this baby is not Nelson. My oldest surviving aunt spent many hours at her grandparents home, the House of Cookies, and she believes the house in the background is her grandparents' home. My grandparents, Frank and Beulah Herron and their kids aren't in this shot.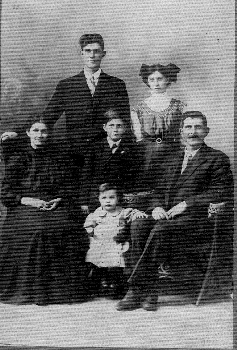 My great granddad George S. Herron and great grandma Barbara (Stambaugh) with children Frank G., my grandfather, Edna, the grandmother of my occasional college roommate Bruce McLeod, Alger, in the middle and Arnold, the youngest. Uncle Alger lived up the road about a mile and a half from dad's place while I was growing up. He was a bit of a character - keep family trees from getting too sedate. I only met Edna and Arnold once or twice each.
Their adopted daughter Mary Herron (Calcutt) is not shown. She was the daughter of Harry Calcutt and Olive Arbuckle. She was adopted as a baby after her mother died in the great Spanish flu pandemic of 1918 - 1919. She married Leo Sampson and died in the spring of 2002. Unfortunately, I never met her that I recall.