Mary Catherine (Kate) Herron and James Willett
Kate Herron (b: 06/05/1866 in Alpena, Alpena, MI d: 07/28/1950 in Flint, MI Burial: Flint, MI - Sunset Hills cemetery) was christened Mary Catherine, which surprised me and my mother. Mom said she had only heard my grandparents refer to her as aunt Kate. Jeff and Jo-Ellen Morris of the great great grandchildren generation forwarded most of these materials. These records are shown below, and links to higher resolution versions are available under the images below. She and James Willett, also from Wilson township married on July 8, 1886. James Alexander Willett was born 02/06/1859 in New Richmond, Quebec, Canada and he died 04/18/1935 in FIint, Genesee, MI. They moved to Flint around 1915 according to her obituary. They had three children I believe: Nellie, Mabel, and Ernest.
(2nd Gen.) Ernest served in WWI and retired with a rank of sergeant. Ernest Walter Willett was born October 14, 1887 in Alpena, MI and died April 09, 1963 in, Genesee, MI. He was buried in Grace Lawn cemeter, Flint, MI. He was married three time: the first to Bernice (Bessie) Monroe Ackley. They had a son: James E. Willett born January 08, 1924 in MI and he died September 1985 in Hastings, MI. Ernest subsequently married a woman named Gertrude and then a woman named Beulah who died in 1964. He was buried with number 3 in Grace Lawn. It is possible that the order of Gertrude and Bernice are reversed as Bernice's son was born when Ernest was 35. That seems old for a first child in the first of three marriages. It would make sense if Gertrude were the first wife, died childless, and Ernest married Bessie second. It is fairly certain Beulah was the last wife.
(2nd Gen.) James and Kate Willett's older daughter was named Mabel Alta Willett. She was born on September 17, 1889 in Wilson Township, Alpena County. She married William Elmer Bryan II on January 29, 1914 in Flint, MI. William was born November 10, 1888 in Hillman, Montmorency County, MI. Mabel died on March 12, 1967 in Flint, MI of Parkinson's Disease. William died July 07, 1969 in Flint, MI of complications of a hip fracture. Mabel and William are buried in Sunset Hills cemetery, Flint, MI.
(3rd Gen.) Jeff and Jo-Ellen Morris' family is in the Willett/Bryan branch of the Willett family. Mabel and William had four children, three girls and one boy who was born last. The first daughter was Kathryn Ruth Bryan, born March 01, 1915 in Wilson, Alpena, MI. She is the baby in the four generations photo. She recently celebrated her 96th birthday (arithmetic ?) or her relatives celebrated. Jeff says she insisted no one make a big deal about it, they all ignored her request and had a party. Word has it she enjoyed the scamps' company greatly in spite of their ignoring her advice. When she was born the family were back in the Alpena following the Flint wedding a year earlier. Maybe the Willett parents moved to Flint first, and for that reason Mabel and William married in Flint, and they moved back to the Alpena to finalize their own move south. Ruth, as she is called, married Gordon Peter Yuille on July 20, 1935 in Flint, MI in the church parsonage, don't quite know what church. Gordon was born on November 30, 1913 in Flint, MI, and he died March 10, 1984 in Flint, MI of lung cancer. He is buried in Sunset Hills cemetery.
(3rd Gen.) Jeff Morris is descended Mabel and William's middle daughter, Dorothy Ellen Bryan who was born on August 05, 1916 in Roosevelt Ave. Flint. It appears she was born at home as there is no mention of a hospital in this otherwise specific note. It seems the extended Wilett family have moved to Flint at this time. Dorothy married Ernest Dean Rockafellow on August 30, 1935 in Bad Axe, MI. Dorothy died on September 09, 2004 in Flint. She died of a stroke precipitated by hip fracture surgery. Ernest died much earlier, He drowned on November 23, 1957 in Sebewaing. Dorothy married a second time to Albert Ogdon Brown on October 17, 1964 in Flint, in the Asbury Methodist church. Albert was born July 13, 1906 in Biddulph Staffordshire-Warrington Lancashire, England, and immigrated to the United States in 1956. He died on November 02, 1990 in Clio, MI of heart failure. They are all buried in Crestwood cemetery, Flint.
(3rd Gen.) Mabel and William's youngest daughter was Bethany Jane Bryan. She was born April 04, 1918 in Flint. She died on April 04, 1973 in Flint, of heart failure. She is buried in Sunset Hills cemetery, Flint, as are most of the family. There is no mention of any marriage or children.
(3rd Gen.) William and Mabel's fourth and last child was also their only son, Maj. Gen. William Elmer Bryan III. I don't think he was actually christened. I believe it was a rank he was awarded in the U.S. Army/Air Force in later life. He was born on October 05, 1921 in Flint. He joined the Army Air Corps in March, 1942, and he was commissioned as second lieutenant up graduation from cadet school in February, 1943. He flew 235 combat missions in P-51 Mustangs in WW II and the Korean conflict. He married Olive Alberta Neal on July 08, 1947 in Flint, MI between his two combat duties. After Korea William went on to serve various muckety muck positions in the Air Force and NATO stations for another twenty years, retiring as a Major General arround 1974. He was accorded in excess of thirty medals, counting various clusters. His record and his family's recognition of his role as a citizen and a father speak very highly of him. William died of heart failure on April 06, 2008 in Ocean Springs, MS. He was buried October 10, 2008 in Arlington National cemetery, Arlington, VA. His wife, Olive, who was born on November 05, 1919, preceded him in death, dying in March 2005 in Ocean Springs, MS. She died of cancer. She is also buried in Arlington National Cemetery.
(2nd Gen.) Nellie Lillian Willett, the youngest child of James and Mary Kate Willett, was born in 1894 in Wilson Township, Alpena County, MI, and she died on June 08, 1931 in Flint, MI. Like her aunt Nellie Herron Arris before her she did not get much of an innings. Nellie Willett married John W. Zimmerman on December 29, 1917 in Flint. John was born on August 27, 1894 in Flint, MI, and he died in September 1962. Currently I have no record of children in this family.
Jeff and Jo-Ellen Morris provided most of the photos and documents included below. They also provided a complete archive, as far as I know, for the Mary Catherine Herron/James Willett family from which I excerpted the preceding material. The lumber camp photo that includes Jim Willett was provided by Myra Herron. That photo is part of a set of three photos located in the Annie Herron King section of the site.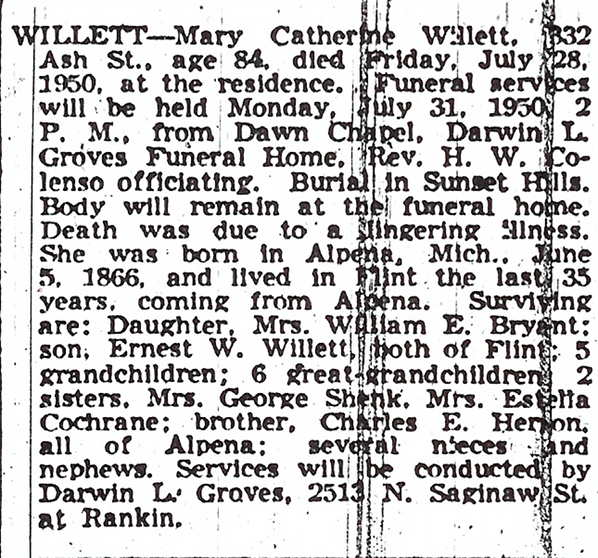 Willett -- Mary Catherine Wilett, 332 Ash St., age 84, died Friday, July 28, 1950, at the residence. Funeral services will be held Monday, July 31, 1950, 2 P. M., from Dawn Chapel, Darwin L. Groves Funeral Home, Rev. H. W. Colenso officiating. Burial in Sunset Hills. Body will remain at the funeral home, Death was due to a lingering illness. She was born in Alpena, Mich., June 5, 1866, and lived in Flint the last 35 years, coming from Alpena. Surviving are: Daughter, Mrs. William Bryant; son, Ernest W. Willett, both of Flint; 5 grandchildren; 6 great-grandchildren; 2 sisters, Mrs. George Shenk, Mrs. Estella Cochrane; brother Charles E. Herron, all of Alpena; several nieces and nephews. Services will be conducted by Darwin L. Groves, 2513 N. Saginaw St. at Rankin.